WebSequenceDiagrams is very flexible and makes creating sequence diagrams fast and easy. But it has a small learning curve. One of the stumbling blocks of new users is how to create dotted and filled arrows.
The most basic arrow type is the filled arrow.

A->B: Hello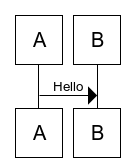 The dotted arrow is often used to signify a result.

A->B: Hello
B-->A: Hi!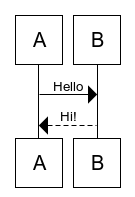 UML geeks will tease you if you don't make use of open arrows as well. Open arrows signify asynchronous operations.

A->>B: Hello, asyncronously!